"Seamless Transitions and Elegant Finishes: Enhance Your Space with Epoxy Coving"
At Anchor Refractories Pvt Ltd, we specialize in providing high-quality epoxy coving solutions that add a touch of elegance and functionality to your floors. With our expertise and commitment to excellence, we deliver seamless transitions and flawless finishes, ensuring that your space stands out with its exceptional design and durability.
Epoxy coving is a technique used to create smooth, curved edges where the floor meets the wall, providing a seamless and hygienic transition between the two surfaces. At Anchor Refractories Pvt Ltd, we offer a comprehensive range of epoxy coving services to suit various applications and design preferences.
One of the key advantages of epoxy coving is its ability to enhance the aesthetics of a space. The seamless and flowing curves created by epoxy coving add a touch of elegance and sophistication, elevating the overall design and visual appeal of any room. Whether it's a commercial establishment, healthcare facility, industrial space, or residential area, epoxy coving can transform the look and feel of the environment
Epoxy Coving:
Coving is an Epoxy Mortar installed to the Wall and Floor Junction to create a Radius, which is Seamlessly incorporated into the Floor System, that has been applied. This prevents Bacteria from Harboring in the Wall and Floor Junction.
We are engaged in offering highly effective epoxy coving for providing a dust-free clean room and as antibacterial, stain resistant hygienic & food grade area. Formulated with almost perfection using high quality compound, these finds extensive application in various industries for providing excellent resistivity against heat, corrosion, chemical and other to the product.
Apply Ancro prime using brush / roller proper uniform coverage consumption will be depend on surface approximately 8 to 10 sqm per kg.
Primer must be tacky during the application of Ancro Cove Epoxy.
Using trowel / appropriate tools to apply Ancro Cove Epoxy to vertical portion.
Allowed to cure minimum 8 hrs at 20 0C (68 0F) before over coating.
All tools to be cleaned immediately after completion of work with Axil epoxy cleaner.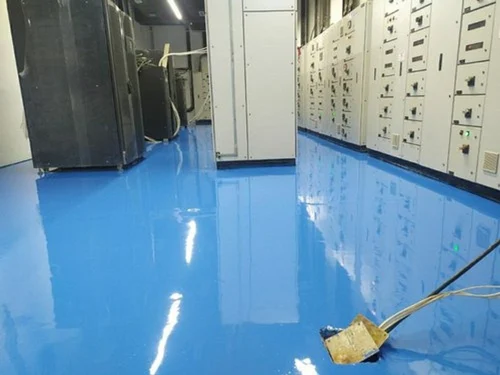 Benefits of Epoxy Coving:
Seamless Appearance: Epoxy coving eliminates the sharp corners and joints between the floor and wall, creating a smooth and continuous transition. This sleek and seamless finish enhances the aesthetic appeal of your space, giving it a polished and sophisticated look.

Hygienic and Easy to Clean: The smooth and curved surface of epoxy coving prevents dirt, dust, and debris from accumulating in the corners, making it easy to maintain cleanliness and hygiene. It also facilitates effortless cleaning, as there are no crevices or grout lines to trap dirt or moisture.

Enhanced Durability: Epoxy coving provides additional protection to the vulnerable corners and edges of your floors, preventing damage from impacts, moisture, and daily wear and tear. This added durability extends the lifespan of your flooring, saving you time and money on repairs and replacements.
Why Choose Anchor Refractories Pvt Ltd?
Expertise and Experience: With years of experience in the industry, we have developed the expertise to deliver exceptional epoxy coving solutions tailored to your specific needs. Our skilled professionals are trained in the latest techniques and use high-quality materials to ensure superior results.

Customized Solutions: We understand that every space is unique, and our team works closely with you to understand your requirements and design preferences. We offer a wide range of epoxy coving options, including colors, textures, and finishes, allowing you to create a customized look that complements your overall design theme.

Quality Assurance: At Anchor Refractories Pvt Ltd, we are committed to delivering the highest standards of quality. We source our epoxy coving materials from trusted manufacturers, ensuring their durability, longevity, and compliance with industry standards.

Timely Execution: We value your time and strive to complete projects within the agreed-upon timelines. Our efficient project management and skilled workforce ensure that your epoxy coving installation is completed with minimal disruption to your daily operations.
Elevate Your Space with Epoxy Coving:
Take your flooring to the next level with our professional epoxy coving services. Contact Anchor Refractories Pvt Ltd today to discuss your project requirements and let our expert team guide you through the process. Experience the seamless transitions, elegant finishes, and enhanced durability that epoxy coving brings to your space.